Amazing doctors and awesome staff that always make you feel comfortable and make sure to take care of anything that's needed
~ Ruiz Alyssa.
I have been a patient of Dr. Dagoberto for my two children, and he was always attentive, professional, and very informed! He was willing to listen to my birth plan, and work with me on what would be best for both me and baby. I recommend him to all my friends!
~ Monica Molano.
Such a great office! I recommend to all friends and family. You'll feel so comfortable with the entire staff and you won't have to worry about anything. They truly care about their patients.,
~ Kim Martin.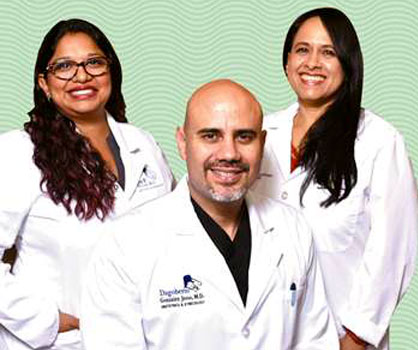 About OBGYN
OBGYN of Laredo are pleased to welcome you to our practice. The office of Drs. Dagoberto I. Gonzalez and Liz P. Millan are committed to giving the best care possible. High quality, comprehensive OB/GYN care is within the reach of our practice.
Drs. Dagoberto I. Gonzalez and Liz P. Millan along with their specialized staff are ready to give you the personalized care you deserve at 7210 McPherson Road suite 100 in Laredo, Tx. Welcome to a higher expectation of medical care; welcome to OBGYN of Laredo.
MAJOR INSURANCE PROVIDERS
---
Follow Us
Office Hours:
Monday

8:00 AM 5:00 PM

Tuesday

8:00 AM 6:00 PM

Wednesday

8:00 AM 5:00 PM

Thursday

8:00 AM 5:00 PM

Friday

8:00 AM 12:00 PM

Saturday

Closed

Sunday

Closed